Under 9's
Age Group Secretary Message
Gavin Hudson
Mobile: 07402 083382
League Email:gavinbbdfl@gmail.com
24th July 2017
Dear All,
All fixtures are now done for the 29th July 2017 for who want to play.
Please note, I am now officially on holiday - please do not text me as they will not be answered until my return on 7th of August 2017. If there is something that needs discussing then please email me and I will get back to you when I can. I will be periodically checking my emails, however it is my family time over the next couple of weeks, so if there are any major issues please send me an email or contact Chris Rees (League Secretary) directly.
If you haven't done it already please let me know if you want a fixture throughout August. If you don't email I will presume you will not be wanting a fixture. Just touching on this, if you have got 5 players. why don't you play a 5v5 game. Remember. its the kids time not ours. If I put you in against another team this weekend that you have played recently then again appologies. Due to the number of teams now on break it is difficult to get fixture matches.
Sean Ashworth From Bury Jnr Eagles has also contacted me regarding providing games against development teams in the U9s. If you are interested, please contact Sean Ashworth directly. He is on Twitter, @seana29
Lastly, I will be putting on some further information on my blog when I return for September onwards.
Enjoy the games.
Regards,
------------------------------------------------------------------------------------------------------------------------------------------------------------------------------------------------
Sunday 25th of June 2017
Dear All,
I hope you are all having a good weekend.
First of all, thank you for those that supported the 2nd Coaches Tournament that I arranged at Burnden Park 3G. It was an enjotable afternoon. These type of events I am looking at putting on more often. It's about getting together, building relationships and having a bit of fun.
Right, to the fixtures. Please check the fixture pages for games from the 1st July 2017.
It has taken two weeks to work through and review the U9s, and to set up new groupings for you all.
There are now three groups, a development group called Ospreys, and the other two are mixed teams within the U9s. The two main groups have been set up to stretch all your players on a weekly basis. Due to the variation of ability, games should now challenge your teams on a reguat basis, and with a larger pools of team, you will be playing a greater number of teams in the fixture calendar.
Please do not get too disheartened if a game does not work out well. It is a journey of developement for the players, stick at it, and they will improve. If the team is not competing at all, then please feel free to speak to me so that we can put something in place to help the players on ther way.
Please be aware, that over the next couple of weeks teams will be taking breaks, and playing in festivals, so if your team does not have a game it is not that I forgotten about you, it's simply the team you are matched up against is not available.
For this week. Westhoughton Rangers have no game. Please can we all work together and try to get all teams who want a game to get them playing. So can anyone offer Westhoughton a Round Robin set of games this weekend?
Again, if you cannot play then please let me know ASAP so I can let other teams know that there will be oppostion available for match ups. This needs to be done by Monday evening, or Tuesday evening if the fixtures have not been released by Monday. Wednesday should be the last day for confirming contacting the oppostion for the weekend game.
With summer holidays are coming up shortly, my thoughts are to have a four week break from August. Please let me know your feedback on this.
If you want to play in August then please let me know so I can compile a list of teams / fixtures for the 4 weeks.
As always, thank you for your support.
Regards,
Gavin
---
Monday 29th May 2017,
Hi All,
I hope you and your players had a good Bank Holiday and feel refreshed.
For those of you who went to the BBDFL Cup finals, I hope you enjoyed some great football. We have got some really good players and Coaches in this League, especially in the Under 9s.
Congratulations to both Hindsford Aces and Tika Take Juventus for making it all the way to the final of the U9 festival. To make it to the last two is some achievement.
A new festival will be along very soon, but in a slightly different format. So watch for updates.
This week is half term, and there are a number of Teams that have asked for no fixtures. I have tried to rework the fixture list as best I can, but if you can't play, or need amendements then please let me know as soon as you can. Half term is the busiest period of fixture management so thank you in advance for bearing with me.
Lastly, the Coaches Tournament. Are you playing? Its on the 24th June. Get yourself involved.
As always, drop me a message with an queries.
Regards,
Gavin
Saturday 20th May 2017,
Hi All,
Fixtures are provisionally up an running for the 27th. These may change subject to people going away for Bank Holiday so please be patient.
Please be prepared to host a round robin of 3 teams to ensure all the kids who want to play get game time.
Next Sunday is the U9 Festival Final at Manchester City Academy, 9am KO. There are also games for different agegroups on Saturday at the Macron.
Enjoy your bank holiday weekend.
Regards,
Gavin
Sunday 13th May 2017,
Hi All,
I hope you are all enjoying your weekends?
Fixtures are all set up for the 20th May. If you haven't got a fixture, then please let me know ASAP.
The 20th May also brings about the Semi Final of the U9 Festival - please ensure all fixtures are completed by Bank Holiday weekend.
Games can be played on a weekday evening if needs be. League fixtures can also be played in the week if you so choose, please let me know so that I plan the weekend's games.
Dates for your diary this week:
Our League AGM on Monday 15th May 2017, at the Macron - please attend if available. I would like to see as many faces from the U9s. Let's show everyone that we have the best set of Coaches in the League by having a good turnout.
Lastly, Coaches Tournament on the 24/6/2017 -if you haven't entered yet, then please get back to me as soon as you can. We'll have a BBQ if there is enough turnout - Its a good social event, so please participate if you can.
Have a good week everyone. As always, any queries then please get in touch.
Regards,
Gavin
Sunday 7th May 2017,
Dear Coaching Colleagues,
After the success of the BBDFL U8 Coaches tournament in 2016, this year it is returning with an open invitation to all Coaches at any agegroup.
The Cost of entry is £5 per player and you can enter as a single player, as a couple of players or as a team. As it is a 5V5 format, the maximum team size is 7.
Venue: Burnden Park 3G
Date: The afternoon of Saturday 24th June 2017
If the weather is dry, we may be able to arrange a Bar-B-Q,so family and spectators will be welcome.
To register please provide your team name, and team member's names before Saturday 10th of June 2017.
You can register by emailing me at gavinbbdfl@gmail.com (coaches tournament in the subject box) or by sending me a direct message on Twitter @gavinlhudson
Regards All,
Gavin Hudson
BBDFL Coach Development Officer
BBDFL U9 League Secretary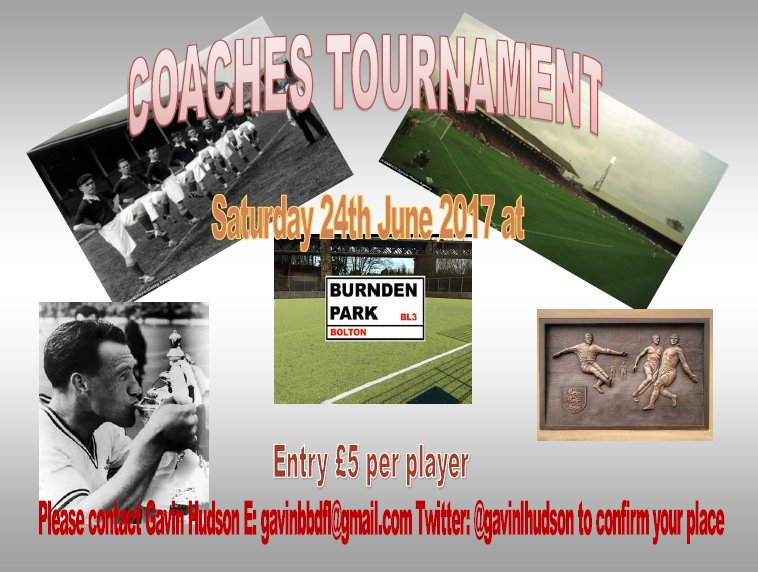 ---------------------------------------------------------------------------------------------------------------------------------------------------------------------------------------------------------------
23/4/2017
Dear All,
Fixtures for the 29/4/2017 are now available.
We also welcome back round 3 of the U9 Festival. Good to luck to all.
There are a couple of U9 teams playing in the Lancashire FA Football Festival, so enjoy the day.
I am now monitoring fixtures on a regular basis to ensure everything goes smoothly. We don't have many issues at U9 but I would like your feedback to make things better. From next week I want each and every coach to send an email to me after the match rating the spectators at the game in the following format:
1. Fixture
2. spectator/ parent rating
scale:
1-no issues, very encouraging, fantastic atmosphere
2. ok, what would be expected. no problems
3. shouting, screaming, jeering, uncomfortable environment
I can then identify areas that need to be monitored. The feedback is completely confidential, please do not share with anyone else. It is there for you to make a difference to the environment for the players.
Lastly, we have the Adults in Football free Workshop tomorrow (24/4/2017) at the Macron. Please support and get down there.
Thats it folks for this week. Enjoy the weather, enjoy the games, and as always let me know if you have any queries.
Regards,
Gavin
----------------------------------------------------------------------------------------------------------------------------------------------------------------------------------------------------------------
17/4/2017
Dear All,
I hope you are enjoying the Easter Break.
Fixtures will be shortly on the BBDFL website.
For this weekend the following teams I have amended their games:
FC Bridgewater Leopards - not wishing to play on the 22/4
North Walkden Falcons will play Oxford Grove- this will not show on the BBDFL website but will on FA Full Time
From the 29/4/2017 teams left in the Cup will be playing the 3rd round of the U9 Festival, and Ladybridge Lightning have a bye into the next round so will be playing normal fixtures.
On the 29/4/2017 Leigh Genesis Evolution and BLGC Yellows are in the LFA Festival so will not be allocated any fixtures for this week. If any other teams are in this, then please let me know so I can make amendments.
KIND REMINDER: Please do not book fixtures based on emails from the FA Full Time system, fixtures change all the time, and you will receive fixture emails from this system due to you being registered. Please remember the U9s are non competitive so fixtures can be amended at any time. So a couple of reminders:
1. PLEASE ONLY GO OFF THE FIXTURES ON THE U9 WEB PAGE http://bbdfl.org/fixtures/597
2. FIXTURES WILL BE UPDATED BY MONDAY EVENING, I WILL LET YOU ALL KNOW ONCE AVAILABLE. PLEASE DO NOT MESSAGE ME CONFIRMING WHEN FIXTURES WILL BE AVAILABLE.
3. If I do not confirm a fixture for you then please let me know. If I arrange a fixture but you do not require then let me know. Lastly if you have sent me an email and I have not acted on it, then please remind me so that I can resolve for you.
We have two new teams joining us from the 22/4/2017. Ladybridge Pumas and Ladybridge Tigers. Please give them a warm welcome, and enjoy your journey with us.
Lastly, don't forget we have a free Adults in Football workshop at the Macron on the 24/4/2017. It would be great to see as many of my U9 Team Manager there. It will be an enjoyable evening.
Thank you once again for your continued support.
Warmest Regards,
Gavin Hudson
----------------------------------------------------------------------------------------------------------------------------------------------------------------------------------------------------------------
4th April 2017,
Hi All,
Please find below a list of matches for the 8th of April 2017. These are based on teams who have contacted me who want to play this weekend, and who have responded to my correspondence last week. A number of you have not contacted me, and as it is Easter there is no problem.
If I have missed you off however then I may have not received any correspondence from you, I can if needs be add additional games.
I do not like to harp on about rules, but please remember I do other things apart from League Secretary so if I don't come back to you straight away then please bear with me. Also do not start texting me at silly o'clock, I simply will ignore you. If the fixtures are not on, it's because I have been dealing with something else, so please show some patience, I will get back to you all.
From the take up for the 15th April I have decided not to do any fixtures this weekend so you are free to set up your own friendlies or have time off. There is plenty of football to play in the coming weeks so enjoy some family time whilst you can get it.
As always, any questions let me know.
Pennington Warriors
v
Turton FC Whites
Bury Jnr Bulldogs
v
Ladybridge Lightning
Bolton County Bolts
v
Bolton Nomads
Ladybridge Tigers
v
Bury Jnr Hawks
Ladybridge Pumas
v
Hindley Jnr Galaxy
Hindley Jnr Boca
v
BLGC Blues
North Walkden Falcons
v
Prestwich Mauraders Kestrals
Bolton County Jets
v
Prestwich Mauraders Hawks
North Walkden Eagles
v
Daisy Hill
Leigh Genesis Evolution
v
FC Bridgewater Leopards
Atherton Town
v
Adlington

Warmest Regards,
Gavin Hudson
27/3 UPDATE::::
UPDATE TO EASTER
I have some managers email me saying that they will not be available for Easter. Rather than leave fixtures in, I have postponed them until the 22/4. If you do want to play through Easter, then please email be before the end of the week confirming
(gavinbbdfl@gmail.com- subject box Easter)
Which weekends you are free?
27th March 2017
Dear All,
For all those who participated in the U9 Festival round of games last week, then thank you one and all for your efforts.
I have had a number of you who have provided your feedback which is really important going forward.
Some have enjoyed, others have found it no use at all to their teams. What I would say here, is if you don't try, you will never know the outcome. The Festival is not aimed to have a detriment on Development, and in hindsight the format will differ next time to accommodate all. It must be noted here however that it is a knock out festival, and as such it should be taken in this respect, and not a weekly run of fixtures that your teams will play.
On the back of this, I have had a number of messages and texts this week regarding Full Time and "my fixture has changed". Please please ignore the emails that you are getting. Full Time is a great system but anytime a change is made, you will receive an email. This unfortunately provides a huge amount of confusion.
Due to the nature of competitive football, games will be moved around, delayed, and even re-arranged. This is because I put in many hours trying to match your fixtures as close and as best as possible.
So to prevent any future queries on this please take note of the following:
DONOT QUERY ANY EMAILS FROM FA FULL TIME ON FIXTURE CHANGES

PLEASE ONLY USE, CHECK THE U9 FIXTURE PAGE ON THE BBDFL WEBPAGE

IF YOU CANNOT PLAY A FIXTURE AT ALL IN THE WEEK NOTIFY AS SOON AS POSSIBLE-with this, I sometimes don't get chance to amend a fixture so please bear with me, and send me a polite reminder.

AWAY AND HOME FIXTURES ARE NOT IMPORTANT.ARRANGE BETWEEN YOURSELVES TO GET THE GAME ON.

I WILL TRY TO UPDATE ALL FIXTURES BY SUNDAY NIGHT HOWEVER THIS IS NOT ALWAYS POSSIBLE-so again bear with me.
Just touching on point 5. The 1st April 2017 will be round 2 of the U9 Festival. Teams that are not playing in this should have a league game provided. If you haven't been allocated a game then please email me at gavinbbdfl@gmail.com and let me know as soon as possible. A couple of teams are also playing postponed Round 1 ties.
Our website is duplicating the Cup Fixtures, again, please just check your team. It will only be one fixture you are playing.
Lastly, Easter Break- I have left fixtures in for those who want to play them. If you do not require them, then that is no problem. Please let me know so I can match the other teams up who want to play. Please send me an email titled "Easter Fixture" to gavinbbdfl@gmail.com
I will be trying to get around to seeing more of you over the coming weeks. As always please drop me a message if you have any queries or I can help in any way.
Enjoy the weather.
-------------------------------------------------------------------------------------------------------------------------------------------------------------------------------------------------------------------
Tuesday 6/9/2016
Dear All,
A big well done to Atherton Town, Pennington FC, FC Marauders…(to name but a few, the list goes on) who got their registrations spot on first time with ITeammate.
Thank you also to all who have registered (barring 1 or 2 players). Please update the remaining ones with missing DOB ID or pictures as soon as you can.
For those who have not contacted me, then you have until Thursday the 8/9/2016 to amend your registrations. Failure to do this by Thursday will mean no games this weekend. It is my club training night on Friday and I will not be chasing anyone else up to get their paperwork in. Also leaving it to the last minute (when everyone has had weeks to resolve) is not something I should need to deal with. I don't enjoy sitting down for endless hours in my own time trying to get through 60 + teams signed off, when I should be putting together session plans for my own U9s. So in future paperwork needs to be in much much earlier. (That is my little rant over!)
As you may have already seen, there are a couple of teams that have joined us this year. So welcome to you all.
Culcheth Athletic Heroes, falls out of the of the 9 mile radius. As part of our constitution, all age group members have the opportunity to raise their views on a team joining. Please let me know if there are any objections that arise in them joining the league. These must be emailed to me before Saturday the 10th September 2016. I for one welcome them, and see them as very good standard. So let's get them involved in our great age group.
I have had a few queries regarding the "Retreat Rule". The half way retreat will be played in every game.
Opposing Players must retreat if the goal keeper in possession makes a save from an opposing player, and the keeper has the ball under control (in their hands).
Or If the ball crosses the goal line of the defending team (so in effect a goal kick), the opposing team must move back to the half way line.
In all other instances, the ball is in play and not retreat required.
Nothing has changed from 5V5 on this.
Another point, is a back pass to the Keeper. If a player in possession passes back to their goal keeper, their goal keeper cannot collect the ball with their hands, they must control the ball with their feet (or any other part of their body apart from their hands). The Keeper cannot collect the ball with their hands unless it touches an opposing player.
In an instance of a back pass being collected by hands, a direct free kick will be awarded at the edge of the penalty area nearest to the incident taking place. PLEASE USE DESCRETION HERE: Please do not just award a free kick for the first incident. Use common sense, and help the player, or show them what to do. If they repeat offend, then provide the free kick.
REMEMBER: The game environment is about learning, let us not take this away from the players.
Lastly, please only use my email of gavinbbdlf@gmail.com - From the 10th September 2016, if anyone uses my other email address they will not receive a response. (Committee emails are an exception to this). The dedicated email should help in getting a response back to you quicker as I can without having to trawl through my personal emails.
As always, any queries, get in touch.
Warmest Regards,
Gavin Hudson
BBDFL U9 League Secretary
Tel 07402083382
--------------------------------------------------------------------------------------------------------------------------------------------------------------------
5/09/2016
PLEASE READ: GAME AMENDMENTS:
TEAM AFFECTED: Oxford Grove , Pennington Knights, BLGC Westhoughton Blues, Boothstown Raiders, Elton Sports Club, and Prestwich Marauders Falcons, Astley Bridge, Tika Taka Bayern
I am sad to announce that Westhoughton Blues and Boothstown Raiders are now longer competing and have been amalgamated into other teams in their clubs. Also, Elton Sports Club, and Prestwich Marauders Falcons want to play 5V5. So there amended fixtures for these teams:
Tiki Taka Bayern vs Astley Bridge
Prestwich Marauders Falcons vs Elton Sports Club
Oxford Grove JFC vs Pennington Knights
Kind Regads,
-----------------------------------------------------------------------------------------------------------------------------------------------------------------------------------------------------------------
4/9/2016
Hi All,
Welcome to the new season, it all kicks off on Saturday 10th September 2016.
A game cannot go ahead unless you have registered your team and had it signed off by me on ITeammate. If I have not received an ITeammate notification from each team by Wednesday 7th September, then unfortunately your team cannot play on Saturday 10th September 2016.
First of all, a couple of points.
Please find attached on the website tthe 10/9/2016 fixtures. Please do not worry too much about the KO times or whether a home or an away team (except returning result fixtures to me). If you need to switch the game to the away team venue then that is no problem. The main thing here is getting a game on. All I ask is to be flexible and to contact each other by Tuesday to confirm pitch and KO time.
If you do not have 7 players, then either borrow a player from the opposing team on the game day or play 6 V 6.
NO MATCHES SHOULD BE CANCELLED FOR A LACK OF PLAYERS UNLESS IT IS DUE TO THE WEATHER. CANCELLATIONS MUST BE NOTIFIED TO ME BY MONDAY BEFORE THE GAME AT THE LATEST (UNLESS I CONFIRM OTHERWISE)
The team noted as the home team on the fixture (regardless of pitch) will have the responsibility of forwarding results to me no later than 6pm on the day of the game.
You will all shortly receive a message from the FA to gain access to their FA Full Time system. On match days, you will receive a text on how to return the results. Only the Team Manager can post results back.
PLEASE ENSURE YOUR CONTACT DETAILS AND TEAM REGISTRATION DOCUMENTS ARE UP TO DATE AT ALL TIMES. THIS MEANS I CAN USE MY TIME MORE EFFECTIVELY HELPING YOU GUYS RATHER THAN DEALING WITH BORING MUNDANE ADMINSTRATION ACTIVITIES
The BBDFL rule book 2016 / 2017 is attached for download from the league website- please ensure you download and read as soon as you can.
Main Points of guidance for the U9s:
Power play will still be in force and expected to be played at all times. This age group is about development not competitive winning.
Half Way Retreat is still in force at all times.
Coaches of all teams have to stand on the opposite side of the pitch to the parents / spectators at all times when the game is underway.
No persons are permitted to enter the field of play except the coaches who are officiating or dealing with a player injury. At no times are spectators or parents to enter the field of play except in certain circumstances (serious injury to a player- and they need to be authorised to enter the field of player by the official in charge).
No continual sideline instructions from coaches / parents: Let the players make their own decisions. Encouragement is permitted, but no constant shouting directions at players.
Fixture results need to be forwarded to the League Age Group Secretary by 6pm.
ITeammate registration documents must be shown and made available to opposing teams at every game.
ALL POINTS ABOVE ARE THERE TO HELP MAKE THE GAMES GO MORE SMOOTHLY. THERE ARE NO EXCEPTIONS TO THESE. FAILURE TO FOLLOW THEM MAY RESULT IN GAMES NOT BEING ALLOCATED TO YOUR TEAM
As always, any queries then please let me know.
Thank you once again for your time and enjoy the season.
Warmest Regards,
Gavin Hudson
BBDFL U9 League Secretary
Tel 07402083382
Email: gavinbbdfl@gmail.com
"Let Them Play"
30th August 2016
Dear All,
IMPORTANT NOTICE PLEASE READ: A number of emails sent to my personal address have been going to another person as the messages do not contain my middle initial of "L". For league queries please now only use my new Email address of gavinBBDFL@gmail.com. For registration purposes, ITeammate will keep my old email address.
IMPORTANT MEETING DATE: I am trying to sort out an U9s Coaches meeting on the 20th September 2016. Please contact me so that I can confirm numbers.
DOCUMENT LIBRARY DOWNLOAD: I have added the FA U9/U10 booklet. This will give you some guidance on the U9 games / pitch sizes, ball size and Mini Soccer rules. For the U9s we are maintaining the Half Way Retreat and Power Play No exceptions. Ball size is 3.
Regards,
Gavin
----------------------------------------------------------------------------------------------------------------------------------------------------------------------------------------------
19th August 2016
Hi All,
​I am presently in the process of updating the U9 contacts page. Please bear with me on this.
A really important ask - if you change your contact details at any point, please let me know ASAP so that I can get them updated and amended. More importantly, check that they have been updated on the contacts page. Incorrect details means no games due to no contact, I don't want calls on Friday night saying there has been no contact for a fixture because the details have not been changed.​L
Lastly, I have been contacted by Stuart Ratcliffe of Parkwyddn FC who are based in Eccles. They want friendlies during August and the beginning of September. They can do Tuedays at their ground at 6.30, and Saturday mornings again at their ground 10am. Let me know your interest on this.
Regards,
Hi All,
I'm looking for a new U9 Coach at Leigh Genesis to help out at training on Fridays and assist with teams on Saturday morning. You may be already Level 1 qualified, or looking for your first coaching challenge. This does not matter as long as you have the willingness to make the kids enjoy themselves every time they pull on that Genesis shirt.
Please contact me in the first instance for an informal chat.
Regards,
Gavin Hudson CeMap
Leigh Genesis Stars & Comets U9s
BBDFL U8 Secretary
Dear Colleagues,
Welcome to the up and coming 2016/2017 season. Please keep checking back for regular updates.
When you get a chance, drop me an email with your pitch details for the season so I can make a personal record along with any up to date numbers and email address. Lastly, please only use gavin.l.hudson@googlemail.com to contact me.
Speak to you all soon.
Regards,
Gavin Hudson CeMap
Leigh Genesis Stars & Comets U8s
BBDFL U8 Secretary
FA L1 Coaching,Youth Module 1, Futsal L1
"Let them Play"
BASIC GUIDELINES FOR ALL MANAGERS TO FOLLOW
Would all managers & assistants please make sure that the following simple rules are strictly adhered to, without exception, to make the arranging, staging & reporting of matches a standard routine.
HOME MANAGERS -Please contact your opposition manager by no later than Wednesday evening to confirm the arrangements for Saturday
Please ensure that a parent-line is in place at every game
Results should be submitted by 2pm, but MUST be received by 6pm on Saturday evening.
Any and all requests for postponements MUST be received by MONDAY evening AT THE LATEST. Any postponement requests received after Monday, except in exceptional circumstances, will be subject to disciplinary action.
Enjoy your football
Please can you take time out to ensure that all your details are correct. I.e. contact numbers, pitch addresses, any missing information etc.

Anything that you would like me to change, please don't hesitate to contact me.
Many Thanks